Hi there again, dear friends, we are excited to have the opportunity to welcome you here again on this website of ours games-kids.com, because the marathon of fun and interesting games is still far from being over and we have all kind of surprises that we are so excited to bring to you. You all know that our team's mission is to make sure that you all have fun here on this website and for this we are trying to bring you games from all the categories, and know we have decided to bring you a game from the Milo Murphy Games category, because it has been a while since we brought you the last game from this series, and now it seems like Murphy needs the most creative and the most imaginative players because this is a coloring game in which your mission will be to use your imagination to color a nice picture with Milo Murphy as the main character.
Use your MOUSE to color.
You can also read the instructions that Milo Murphy Coloring Game are given in the game and follow them carefully!
Date: 30.08.2016 10:00
Category: Milo Murphy Law Games
Score: 3.34 stars.
Voted: 9 times
Played: 789 times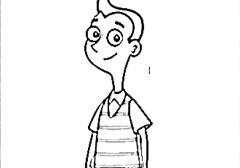 Milo Murphy Coloring Game
Find the Milo Murphy Coloring Game game by searching for this items:
milo murphy games, milo murphy, milo murphy games online, milo murphy online games, milo murphy new games, milo murphy games for free, milo murphy free games, free milo murphy games, free games with milo murphy, milo murphy 2016 games, milo murphy games 2016, milo murphy fun games, fun milo murphy games, milo murphy coloring game, coloring games, milo murphy coloring online, milo murphy online coloring game, 2016 games, 2016 game, coloring game, coloring online, free games, free game, fun games, games 2016, games online, fun game, games with milo, interesting games, new games, online coloring, online coloring game, online games, games, for free, coloring, games with milo murphy, milo murphy coloring