The Moana games category is filled with fun and very interesting games, but we are not stopping here and so you can see that today, we have brought a new online game from the Moana games category that we are sure that you are going to love. This is a very interesting and very fun adventure game, in which you will have the chance to meet with the Kakamoa clan characters. These are little people from Moana's exotic island, and you will have to make sure that you can help help them, because it's not going to be easy at all to help them win back all of the ships that they have lost. There will be a lot of difficulties and traps that you will have to face in this game, but we are sure that if you are very careful and fearless, you will be able to pass each and every one of them, and we are sure that you will do a great job helping the Kakamoa's to gain points and win back their ships, and so Moana will be very impressed with your skills, so more fun and more interesting games from the Moana games category will appear here on games-kids.com in the shortest time. Have fun!
Use the ARROW keys to play.
You can also read the instructions that Moana Kalamor Chaos are given in the game and follow them carefully!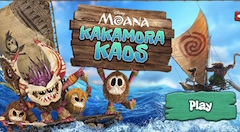 Moana Kalamor Chaos
Find the Moana Kalamor Chaos game by searching for this items:
moana games, new moana games, online moana games, fun moana games, 2017 moana games, free moana games, interesting moana games, girl moana games, princess moana games, adventure moana games, adventure games, new adventure games, free adventure games, interesting adventure games, princess games, fun princess games, 2017 princess games, kakamoa games, kakamoa chaos games, fun kakamoa chaos games, adventure games, 2017 adventure games, moana adventure games, 2017 adventure game, adventure game, free adventure, fun adventure, fun adventure game, fun princess, interesting games, little people, moana, moana adventure, new adventure, new adventure game, princess moana, 2017 adventure