All we want to do is to always make sure you have the best time ever and that is why we are here, to give you the chance to play the most magical games ever and this one right here is one which you shouldn't miss out because, as you can see even from the title of it, you get to play with Sailor Moon, well not exactly with her because you are going to play with Sailor Scout who is the modern version of Sailor Moon, but she is the same character , she is cute and friendly and she can't wait to play with you in this game. Summer is here so she is very excited about everything, but she in the same time wants to be a fashionista this summer and she is sure that you kids can help her out with that. Good luck!
Use the MOUSE to play.
You can also read the instructions that Sailor Scout Summer Style are given in the game and follow them carefully!
Date: 15.07.2017 18:00
Category: Sailor Moon Games
Score: 5.00 stars.
Voted: 1 times
Played: 357 times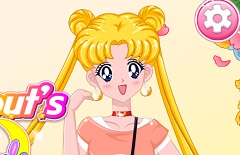 Sailor Scout Summer Style
Find the Sailor Scout Summer Style game by searching for this items:
sailor moon games, games with sailor moon, sailor moon, sailor moon new games, fun games with sailor moon, sailor moon games for kids, cute games with sailor moon, sailor moon girl games, girl games, new girl games, fun girl games, sailor moon summer style, sailor scout games, sailor scout summer style, dress up games, new dress up games, fun dress up games, dress up sailor scout