Come dear kids and check out this super fun game right here on our site because we are sure you are going to love it and that is the most importsnt thing for us, the administrative team of the site because that is why we are here, to do the best we can in order to make sure you have fun and we know you are really going to have a nice time if you simply play wth the right characters, like in this one you get to play with friends who are just excited to play with you. So come and try out this game in which, as you can see, you get to play with cute Tinkerbell who wants to have the best time ever with you in this game. She is at the hair salon of Barbie's so this is a pretty special occasion to play with two of your very good friends. Good luck!
Use the MOUSE to play.
You can also read the instructions that Tinkerbell at Barbie Hair Salon are given in the game and follow them carefully!
Date: 16.07.2017 18:00
Category: Tinkerbell Games
Score: 5.00 stars.
Voted: 1 times
Played: 295 times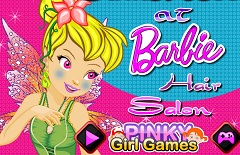 Tinkerbell at Barbie Hair Salon
Find the Tinkerbell at Barbie Hair Salon game by searching for this items:
tinkerbell games, games with tinkerbell, tinkerbell, tinkerbell new games, fun games with tinkerbell, tinkerbell gams for kids, cute games with tinkerbell, tinkerbell fairy games, fairy tinkerbell games, games with fairies, fairy games online, fairy games spa, hair salon, tinkerbell hair salon , tinkerbell and barbie games , girl games, new girl games