We are really happy to give you the chance to play this awesome game right here on our site, we are sure you are going to have a nice time if you simply play the game and that is very important for us because we are here to give you the chance to have fun and that is a sure thing with all the interesting games you get to play. This time, as you can see, you get to play with a very interesting hidden objects game and we will tell you what is this so special, and that is because it is a story game in which you get to know Henry, who is a really nice man and who is here because he is a History teacher and he found out that in this old town there are a lot of letters from Presidents so he has to investigate and he really hopes you kids will help him out. Good luck!
Use the MOUSE to play.
You can also read the instructions that The Presidents letters are given in the game and follow them carefully!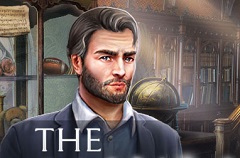 The Presidents letters
Find the The Presidents letters game by searching for this items:
hidden objects games , games with hidden objects, hidden objects, hidden objects new games, fun games with hidden objects, hidden objects games for kids, cute games with hidden objects, hidden objects the presidents letters, hidden objects mistery games, hidden objects story games, find the hidden objects, hidden objects games for kidsd online, hidden objects the presidents letters game