The My Little Pony characters are the best because they are always very cute and friendly and they simply can't wait to have the chance to play with you all the time and because a game is the most fun when you get to play with many characters, that is why they decided to get together and prepare you a game with all of them.So this is how this Pony D finder, that means differences finder game was created and you will see that in each level you will have two images in front of you which may seem identical, but they aren't and your mission is to find the difference between them and if you succeed in finding them all, you will be able to go to the next level which can be even more difficult but if you have patience you are going to do a very good job. Good luck!
Use the MOUSE to play.
You can also read the instructions that My Little Pony 2 Finder are given in the game and follow them carefully!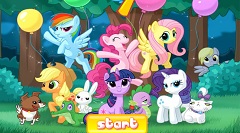 My Little Pony 2 Finder
Find the My Little Pony 2 Finder game by searching for this items:
my little pony games , games with my little pony, my little pony, my little pony new games, my little pony differences, differences, pony games, pony d finder 2