Well this one game is not to be missed and you can see that even from the title of it, it is a hidden objects game which shouldn't be a big surprise because hidden objects games can be full of interesting puzzles and, of course, with stories and adventure levels for you guys. In this Wrong Place Wrong Time named game you have the chance to work with a detective and beside the game being very interesting, you also have to really pay attention to the instructions, before each level your partner the detective will tell you a part of the story which brought him here, a girl has disappeared, the daughter of a very good friend of his and he needs your help to unravel this mystery, find the girl and solve all the puzzles, it won't be easy but by the end of the game everything will be clear. Good luck!
Use the MOUSE to play.
You can also read the instructions that Wrong Palace Wrong Time are given in the game and follow them carefully!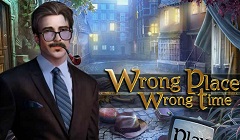 Wrong Palace Wrong Time
Find the Wrong Palace Wrong Time game by searching for this items:
hidden objects, games with hidden objects , find the hidden objects, hidden objects wrong place wrong time, hidden objects mystery games, puzzle games, hidden objects new games