Barbie is returning here on our website today, because she needs the help of all the girls here on our website. You dear friends have to make sure that you can help Barbie look amazing, because she is about to appear on a new glossy magazine. You dear friends have to help Barbie, because she wants to change her entire style, and for that you have to make sure that she will be the most beautiful character from our website that appeared on the glossy magazine. It's not going to be easy at all, but we are sure that you and Barbie will be able to find beautiful, modern and fashion clothes that she can wear during her new photo shoot. You have to make sure that you can help Barbie have an awesome appearance in the glossy magazine, and we are sure that in this way, Barbie is going to return here on our website with more fun games that you can play with all your friends for free. Have fun!
Use the MOUSE to play.
You can also read the instructions that Barbie Glossy Magazine are given in the game and follow them carefully!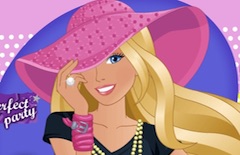 Barbie Glossy Magazine
Find the Barbie Glossy Magazine game by searching for this items:
barbie games, girl barbie games, 2017 barbie games, dress up barbie games, 2017 dress up games, girl dress up games, girl games, new girl games, online girl games, 2017 girl games for kids, barbie glossy magazine, new glossy magazine clothes