One of the things Kick Buttowski loves the most is winning, like racing too and if you have seen the cartoons with him or if you have played games with Kick, then you know that he is very good at racing and he loves his bicycle ,but even though he is just a kid, Kick knows how to ride a lot of cars and vehicles and it looks like in this Kick Buttowski game,the mega race game he is riding something that looks like an ATV. Of course that Kick needs your help to win all the races in the Mellowbrook area, all you need to do is start the levels one by one and race your opponents until you beat them all. This is a racing game with Kick Buttowski in which you can even cheat, that means you can use, for example, you fruit cannon to take down your opponents, be the fastest in this racing game and you will win. Good luck!
Use the ARROW KEYS, SPACE for fruit cannon and SHIFT for launching inventions
You can also read the instructions that Mellowbrook Mega Race are given in the game and follow them carefully!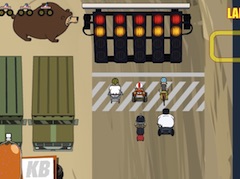 Mellowbrook Mega Race
Find the Mellowbrook Mega Race game by searching for this items:
kick buttowski games, games with kick buttowski, kick buttowski new games, fun games with kick buttowski, kick buttowski games for fun, interesting kick buttowski games, fun kick buttowski games, kick buttowski ride games, ride games, racing gams, boys games