Kick Buttowski is more ready than ever for this Mellowbrook race, he loves races and he can be the best at them and that is why he decided to share with you this racing game, the truth is that Kick Buttowski could use your help because this is not an easy game and we are sure you can drive really fast, do all the tricks and stunts right and, of course, win all the races. This racing game for boys has a lot of surprises for you and we hope you will be curious enough to come and check them all out bcause we can promise you that you are going to have a nice time. You can even choose between Kick and Gunter and after that, the races can begin and you have to help the player you chose to win the race in this Kick Buttowski awesome game. Good luck!
Use the ARROW KEYS to drve and SPACE to boost.
You can also read the instructions that Wreckreaction Rift are given in the game and follow them carefully!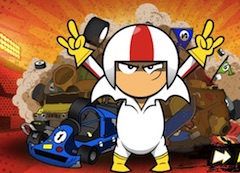 Wreckreaction Rift
Find the Wreckreaction Rift game by searching for this items:
kick buttowski games, games with kick buttowski, kick buttowski new games, fun games with kick buttowski, kick buttowski boys games, boys games