Venus McFlytrap is one of the cute Monster High student and she is sure you are going to have a fun time if you simply are curious enough to come and try out this girl game. We say it is a girl game because Venus McFlytrap, who is of course a monster, needs your help in a fashion matter, Venus is going with her friends to the music festival which is in town this weekend and sshe is very excited about this but she doesn't really know how to dress up for it so this is a dress up Venus McFlytrap game. Don't forget that in this Monster High game Venus is going to the music festival, where you can see all the most interesting and trendiest outfits, so she is not just going to the Monster High school so she needs your help with her outfit so she would feel like a real fashionista. Good luck!
Use the MOUSE to play.
You can also read the instructions that Music Festival Venus are given in the game and follow them carefully!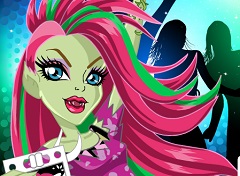 Music Festival Venus
Find the Music Festival Venus game by searching for this items:
monster high games, girl monster high games, 2017 monster high games, fun monster high games