Welcome back dear friends here on games-kids.com, where you can see that we are bringing for you a very attractive game from the Lego games category, a free 3D game with Lego characters that we are sure that you will love, because you can see that you will be an explorer in the 3D Lego Star Wars world. You dear friends will have to find which Lego character is going to be Luke Skywalker, and for that you will have to look around using your mouse to make sure that by the end of this game, you will be able to have a great time, and we are sure that you will have a great time, and you dear friends will see how the entire Lego Star Wars world look like. Make sure that you can finish this game with a lot of points, and you can see that there are going to be different other new online Lego games that you can play with all your friends for free. Have fun!
Use the MOUSE to play.
You can also read the instructions that Lego Star Wars The Last Jedi are given in the game and follow them carefully!
Name: Lego Star Wars The Last Jedi
Date: 29.01.2018 22:00
Category: Lego Games
Score: 5.00 stars.
Voted: 1 times
Played: 313 times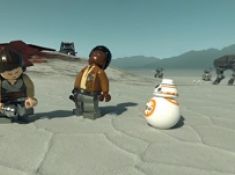 Lego Star Wars The Last Jedi
Find the Lego Star Wars The Last Jedigame by searching for this items:
lego games, new lego games, online lego games, 2018 lego games, free lego games, 3d lego games