This is one of the coolest adventure games, new here on our site and that is because this Fruit of Pirate King game is a 2 player game which means you have the chance to play with a good friend of yours from the same keyboard and that really sounds like a lot of fun. So we invite you to check out this Fruit of Pirate King game which can clearly be the best because you are going to play with two pirates who are here, lost on an island, and they hope you kids are going to help them solve every elvel. There are a lot of dangers waiting for you in this adventure game and the two pirates, so you dear kids have to work together in order to solve the mysteries of every level, fight of the enmies and get to the fruit. Good luck!
player 1: ARROW KEYS player 2: W,A,S,D
You can also read the instructions that Fruit of Pirate King are given in the game and follow them carefully!
Name: Fruit of Pirate King
Date: 12.03.2018 01:00
Category: Pirates Games
Score: 5.00 stars.
Voted: 1 times
Played: 30 times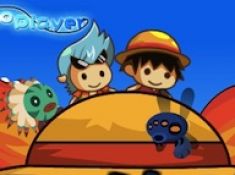 Fruit of Pirate King
Find the Fruit of Pirate Kinggame by searching for this items:
2 player games, adventure games, fruit of pirate king, pirates games, pirates games 2018