Get ready for another awesome new and beautiful online game. We have decided to offer you the next game for today, a new game in which the main character is your friend Barbie. In this new game that we have for you, Barbie would like you to join her and give her a hand. As you already know her from the newest movie with Barbie she is a super hero and she wants you to join her and help her choose the best hairstyle for a superhero. This new game is a real hairstyle type of game in which you will have to use your imagination and all the hairstyle tools that are offered to you and make Barbie look amazing. In fact you will also be able to realize if she likes what you do or not, after her face expression. You have to take every strand of hair and style it as you like. You can choose to curl her hair, straighten it or cut it or if you wants, you can even choose a different hair color. Let your imagination lose and help Barbie get the most awesome hairstyle. Also after you are done you can choose an outfit for your friend as well as some accessories. Enjoy!
Use the mouse to play!
You can also read the instructions that Super Barbie Real Hairstyle are given in the game and follow them carefully!
Date: 23.06.2015 08:00
Category: Barbie Games
Score: 5.00 stars.
Voted: 1 times
Played: 1281 times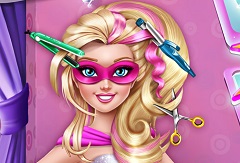 Super Barbie Real Hairstyle
Find the Super Barbie Real Hairstyle game by searching for this items:
barbie, barbie games online, new barbie games 2015, barbie games for girls, princess power, barbie princess power games, new barbie princess power online games, new barbie princess power 2015, princess power barbie, barbie princess power dress up, dress up barbie, new dress up games, barbie haristyle, real hatisyle barbie, super barbie haristyle games, barbie real hairstyle 2015, real hairstyle super barbie, new barbie real haristyle games, barbie games, barbie games 2015, barbie princess, games 2015, games for girls, haristyle game, new barbie games, online games, real hairstyle, dress up games, new dress up game, dress up game, hairstyle 2015, new dress up, hairstyle, superhero, super barbie, barbie game, games for girl, games, ames for girls, dress up, haristyle games, games online, new barbie, style games, barbie games for girl, for girls, up games, power games, tyle games, girls