We would like you to join us in this new game in which you will have as your main character Barbie from the movie Barbie superhero. In this new game that we have for you, you are invited to join your friend and give her a hand. Barbie has decided to make something delicious to eat today and she also has decided to invite some friends over for dinner. She will need help to make everything she has in mind for today, so she wants you to help her. Barbie will show you what are the steps you need to make in order to prepare a delicious meal and she wants you to repeat them in order to make a delicious meal for her and her guests. All that you need to so is pay close attencion to your friends instructions and we are sure that you will have a lot of fun playing this new and amazing online game that Barbie Super Hero have decided to offer to you next. Do not forget to try all the other games that we have in store for you today and enjoy your time on our website. Have fun with Barbie Princess Powers!
Use the mouse to play!
You can also read the instructions that Barbie Superhero Real Cooking are given in the game and follow them carefully!
Date: 02.11.2015 21:00
Category: Barbie Games
Score: 5.00 stars.
Voted: 5 times
Played: 1556 times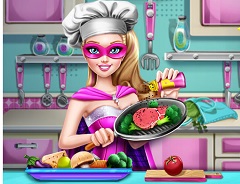 Barbie Superhero Real Cooking
Find the Barbie Superhero Real Cooking game by searching for this items:
barbie, barbie games online, new barbie games 2015, barbie games for girls, superhero barbie games,barbie cooking games, super barbie cooking meatloaf, meatloaf cooking games, cooking with super barbie, barbie superhero cooking games, cooking games, barbie cooking games, barbie games, barbie games 2015, barbie cooking 2016 games, barbie 2016 games, super barbie 2016 games, real cooking games, real cooking 2016 games, barbie real cooking 2016 ,real cooking barbie online games, barbie super hero, barbie online games, barbie princess, games for girls, cooking game, games 2015, new barbie games, online games, princess power, 2016 games, cooking 2016 games, superhero, super barbie, barbie game, cooking 2016, games for girl, 2016 game, barbie superhero, barbie cooking, ames for girls, cooking meatloaf, games online, new barbie, barbie games for girl, barbie online, for girls, barbie 2016, cooking