Come and try out this super cute game with Mighty B, you should know by now that she is a girl scout, her whole story is around the fact that she is a Bee and she wants to become the Mighty B and you are going to help her do that because she needs the support of all her friends. Well , as everybody knows, girl scouts often sell cookies and this is the case in this particular game, you have to help Bessie and her friend delivery cookies and you have to be realy quick and concentrate because your job won't be easy at all. In every level you've got a specific number of taffy's to deliver and that won't be a piece of cake because you have to dodge all the obstacles in the same time and of course throw taffy boxes to people's windows, but you have to throw them right andto the right height otherwise they won't catch them. Good luck!
use the ARROW KEYS and SPACE.
You can also read the instructions that Mighty B Taffy Delivery are given in the game and follow them carefully!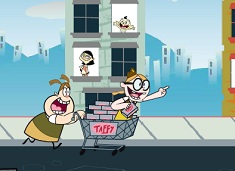 Mighty B Taffy Delivery
Find the Mighty B Taffy Delivery game by searching for this items:
mighty b games, games with mighty b, mighty b fn games, mighty b, mighty b new games, funny games with mighty b, mighty b 2016 games, games with mighty b adventures, bessie games, games with bessie, games with mighty b bessie, mighty b taffy delivery, mighty b adventure games, mighty b taffy delivery games, 2016 game, 2016 games, adventure game, adventure games, delivery games, funny games, new games, adventures, adventure, cookie, cookies