Come and play with little Bessie again, she is one of the best girlscouts because even when she is sleeping she is still thinking about her dream to become a Mighty B, she needs to collect all the badges and that is something very important for her because this is truly her biggest dream and she is always doing the best shw can in orde to succed with her dream. In this particular game, Bessie is truly sleeping and she is dreaming about all kind of ways to gather badges, you have to help her conquer the sky, the sea and the land and of course collect a lot of badges in your way, all of them if you could do that because if you don't collect enough you won't be able to go to the next level. But of course you can always try again the level you jjust finish and try to do it better, Bessie is very kind and understanding and she won't mind if you need a better score, you are just helping her out in fact. Good luck!
Use the ARROW KEYS and SPACE for jumping.
You can also read the instructions that Mighty Dreams are given in the game and follow them carefully!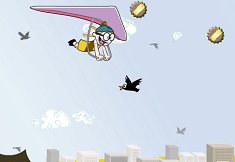 Mighty Dreams
Find the Mighty Dreams game by searching for this items:
mighty b games, mighty b, games with mighty b, mighty b fun games, mighty b online games, adventure games, games with mighty b adventures, adventures with mighty b, mighty b mighty dreams, mighty dreams game, mighty b badges, mighty b2016 games, fun games with mighty b, mighty b free games, 2016 game, 2016 games, adventure game, free game, free games, fun games, online games, adventures, adventure, fun game