We like you to have some of the best online games and because we do care about you, the administrative team of games-kids.com has decided to offer you this new game, a new and beautiful online game in which you will have alot of fun playing with us. This time the new game that we have to offer is a skill game in which your friends want to see how skilled you are and fast. Your puppy friends have for you a new and beauitful online game, a new game in which they are sure that you will have alot of fun playing this new game that we have to offer. In this game they will all be plaqced in the bottom of the game and in the center you will see a cercle in which they will appear. As you see one puppy appear click on it in the bottom as fast as you can in order to score points. Try to click on all of them in the shortest time and in this way to gather the highest score before the time that is given to run out. Have fun in this new Paw Patrol game that we have to offer especially for you, here on games-kids.com!
Use the mouse to play!
You can also read the instructions that Paw Patrol Pair are given in the game and follow them carefully!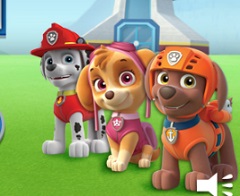 Paw Patrol Pair
Find the Paw Patrol Pair game by searching for this items:
paw patrol, new paw patrol games, paw patrol online games, free paw patrol games, kids paw patrol games, online paw patrol games, new games paw patrol, pair games, paw patrol games, paw patrol pair game, pairs with paw patrol, new paw patrol pairs online, online games, new games, paw patrol online, skill game