There are a lot of peple on games-kids.com that love the Star Wars games and movies, so today, we have for you the newest and the most interesting game from the Star Wars games category. In this game, you will have the chance to meet the famous Luke Skywalker, the jedi warrior comes today on our website. He and his jedi master Yoda, will have to pass through the magic forest, which will not be easy at all. Passing through the forest is part of young Luke's training to become a jedi, so he will have to he very careful, fast and agile, to be able to pass all the forest obstacles that are trying to keep out the unworthy. The jedi maste Yoda will be by yourside, and he will try to train you to pass the forest easyer, but you will still have to be very careful, and jump all the wholes, climb the vines and wall when you have to, and the most important, collect all the coins to gain many points. Have fun!
Use the ARROW and SPACE keys to play.
You can also read the instructions that Star Wars Yoda Jedi Training are given in the game and follow them carefully!
Date: 13.12.2015 21:30
Category: Star Wars Games
Score: 5.00 stars.
Voted: 6 times
Played: 3979 times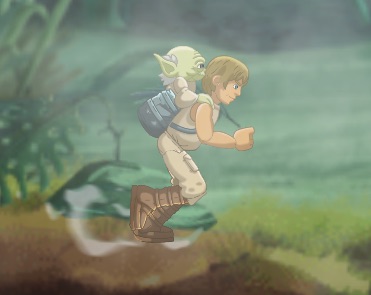 Star Wars Yoda Jedi Training
Find the Star Wars Yoda Jedi Training game by searching for this items:
star wars games, new jedi games, online yoda games, free luke skywalker games, new luke skywalker games, free star wars games, online star wars games, 2016 star wars games, 2016 luke skywalker games, free yoda games, online yoda games, forest games, new forest games , jedi games, star wars, 2016 star wars, yoda games