For you to meet all your favorite characters, today dear friends we are bringing for you a new online Dress Up game, in which Super Barbie, Elsa and Barbie will be the main characters. These three girls want your help to look amazing, so you have to make sure that you can help Super Barbie, Barbie and Elsa to look amazing while they are practicing for their concerts. This is going to be a new online dress up game, in which a new rock band is going to be formed. These three girls need your help to find clothes, dresses, hairstyles, accessories and more important make-up that they can wear, so that they can become the most beautiful and modern fashion items for rock band girls, and we are sure that all three of the characters are going to have a lot of fun. Elsa, Barbie and Super Barbie are going to have a great time, and so you can see that new dress up games are going to appear on our website an you can meet with them again. Have fun!
Use the MOUSE to play.
You can also read the instructions that Super Barbie Princess Rockstar are given in the game and follow them carefully!
Date: 11.10.2017 01:00
Category: Princess Games
Score: 5.00 stars.
Voted: 1 times
Played: 234 times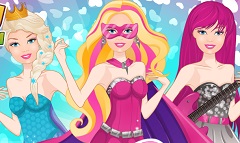 Super Barbie Princess Rockstar
Find the Super Barbie Princess Rockstar game by searching for this items:
princess dress up games, elsa and barbie games, dress up super barbie games, super barbie princess and rockstar games, barbie girly games