We move further with the new game for today and offer you a new makeover type of game dedicated especially to girls, a new game in which the main character is no other than Barbie from the movie Barbie Princess Power. The game is an amazing online game in which your friend has a date tonight and she wants you to help her apply some face treatment, arrange her eyebrows and than makeover her. The game is a real makeover type of game in which Barbie wants you to take all the decisions and make her look amazing as you always managed to do. You will have three stages, the first one is the facial treatment stage in which you will get instrutions and the next ones are the makeover and the dress up stage where you will have to use your taste in fashion and not only. Make as many combinations you want until you are pleased with the final result. Come and play this new and fun online game that we have for you and enjoy spending the time with Barbie from the serie Barbie Power Princess.
Use the mouse to play!
You can also read the instructions that Barbie Superhero Real Makeover are given in the game and follow them carefully!
Date: 19.09.2015 21:00
Category: Barbie Games
Score: 4.00 stars.
Voted: 4 times
Played: 1042 times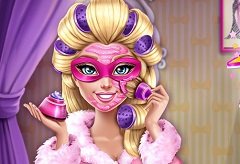 Barbie Superhero Real Makeover
Find the Barbie Superhero Real Makeover game by searching for this items:
barbie, barbie games online, new barbie games 2015, barbie games for girls, 3d barbie games, kids barbie games,barbie makeover, makeover games, barbie brode, barbie bride makeover, barbie rela makeover game, real makeover games, real makeover barbie,superhero barbie makeover games, superhero barbie games, games with barbie superhero, new barbie superhero makeover,real makeover barbie superhero, barbie bride, barbie games, barbie games 2015, barbie makeover games, barbie princess, bride makeover, games 2015, games for girls, games with barbie, makeover barbie superhero, new barbie games, princess power, real makeover, superhero, makeover game, makeover, barbie game, games for girl, barbie superhero, ames for girls, dress up, barbie makeover game, games online, new barbie, barbie games for girl, for girls, superhero makeover, new makeover, princess, bride