If you didn't knew, the Disney princesses here on our website are anxious to learn how to cook, and so today we have prepared for you a new online game from the Frozen games category, in which you will have the chance to meet with princess Elsa. In this game, you will see that Elsa wants to cook for all of her princess friends one of the most delicious and tastiest christmas cake that they ever had, and for that she will need your help. Elsa has never cooked a Christmas cake before, so you will have to make sure that you can help her cook a very delicious and interesting winter cake. We have prepared for you ingredients and special tools that you can use in the kitchen, and all you will have to do now is follow the recipe, and we are sure that you and Elsa will be able to have a delicious and very beautiful decorated cake by the end of this game, and e are sure that Elsa will not stop here, and that she will return here on our website to cook more interesting recipes with you. Have fun!
Use the MOUSE to play.
You can also read the instructions that Cooking Christmas Cake with Elsa are given in the game and follow them carefully!
Date: 17.02.2017 11:00
Category: Frozen Games
Score: 5.00 stars.
Voted: 2 times
Played: 393 times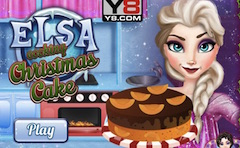 Cooking Christmas Cake with Elsa
Find the Cooking Christmas Cake with Elsa game by searching for this items:
frozen games, fun frozen games, cooking frozen games, new frozen games, online frozen games, 2017 frozen games, free frozen games, girl frozen games, princess frozen games, elsa frozen games, christmas frozen games, cake frozen games, elsa games, new elsa games, 2017 elsa games, fun elsa gams, free elsa games, 2017 elsa games, princess elsa games, new princess games, fun princess games, 2017 princess games, girl princess games, cooking princess games, 2017 cooking games, new cooking games, interesting cooking games, fun cooking games, 2017 cooking games for girls, christmas cake, 2017 cooking, 2017 cooking game, cake with elsa, cooking game, cooking games, disney princess, disney princesses, elsa game, frozen game, fun cooking, fun cooking game, fun princess, games for girl, games for girls, new cooking, new cooking game, new elsa, new elsa game, new frozen game, new princess game, online frozen, princess elsa, princess elsa game, princess games, princesses, winter cake, elsa gams, cooking games for girls