We are happy to finally offer you another new and exclusive online game. A new game in which you will have as main characters your princesses Anna, Elsa and Rapunzel. You friends are extremely happy that summer is here and they can finally spend the time at the pool, or in the sun, tanning. They would like to enjoy every day of this summer together and help them get ready for an amazing day at the pool. It is sunny and warm and your friends want to sit on a lounge and enjoy a fresh drink while tanning and swimming from time to time. We are sure that you will enjoy spending the time here with your friends and they are really eager for you to join them. Come and enjoy your time with some of the most beloved princesses from disney, with Anna, Elsa and Rapunzel. Take a look at every swim suit, accessories and hairstyle and choose the best for them. Also do not forget to take a look at every other games that our team has to offer especially for you, our dearest friends!
Use the mouse to play!
You can also read the instructions that Princesses at Pool Party are given in the game and follow them carefully!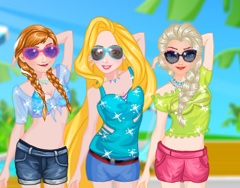 Princesses at Pool Party
Find the Princesses at Pool Party game by searching for this items:
princess games, new princess games, fun princess games, online princess games, games with princesses, new princess games, fun princess games, online games with princesses, princess games for kids, princess girls games, girls games with princesses, princess games 2017, disney princess games,pool party, rapunzel pool party, anna pool party, elsa pool party, pool party games, fun pool party online games, dress up games, kids games, princesses kids games, fun princesses games, dress up games, new dress up games, fun dress up games online, new princesses pool party