It seems like one of those moments, when we , games-kids.com, are trying to offer you the best game for today, our exclusive game. This new and fun game is with some of your favorite princesses from disney, a fun fashion type of game created especially for those of you with a passion for fashion . Here in this new and amazing online game, the main characters are your friends from disney, Elsa, her sister Anna and their best friend, Rapunzel. The three princesses are waiting for you to join them and help them get ready for Easter. They will offer you all their clothing objects and accessories and let you dress them up, one by one. You will start with the disney princess Anna and once you are done with her, the next in line is her big sister, Elsa. The last but not the least is Rapunzel, who is eagerly waiting for you to join her in this new and amazing online game. Come and join the disney princesses n this new and amazing online easter game that we have to offer especially for you, our dearest friends. Join your friends from games-kids.com and have fun!
Use the mouse to play!
You can also read the instructions that Princesses Easter Fashion are given in the game and follow them carefully!
Date: 10.04.2017 09:30
Category: Princess Games
Score: 4.43 stars.
Voted: 7 times
Played: 10120 times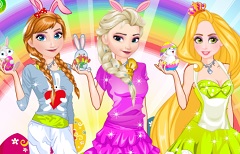 Princesses Easter Fashion
Find the Princesses Easter Fashion game by searching for this items:
princesses, princess games, new games princesses, princesses 2017 games, easter games, new games easter, easter games online, fun games easter, easter games rapunzel, rapunzel dress up, anna dress up, anna easter, elsa dress up, elsa easter games, easter dress up games, dress up games, online dress up games, fun games dress up, dress up 2017 games, easter games 2017, princesses fun games, princesses easter games, easter dress up princesses, fun games, kids games, new games, games