Get ready because we are here to impress you. This time we have for you a very fun skill game in which the main character are some of the most loved puppies ever, the puppies from the nickelodeon serie, Paw Patrol. This is just one of the many games we have to offer especially for you, a new and fun game in which you are invited to join your pup friends and help them with their Pup Fu trainings . Your friends wants to learn the art of pup fu and they need your help in order to do that. You will have one level for each character from the Paw Patrol pups and your will have to use your mind skills and the few indication they offer you to help them achieve different colored bells in the Pup Fu art. The game is a click and eliminate game in which you have to watch the squares where are three or more pieces of the same time and click on them to eliminate them and fill the level bar of the game. Go trought each level of this new game and spend your time with the Paw Patrols. Have a lot of fun, here on games-kids.com!
Use the mouse to play!
You can also read the instructions that Paw Patrol Pup Fu are given in the game and follow them carefully!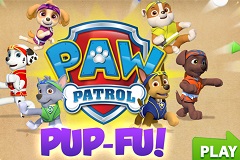 Paw Patrol Pup Fu
Find the Paw Patrol Pup Fu game by searching for this items:
paw patrol, new paw patrol games, paw patrol online games, free paw patrol games, kids paw patrol games, online paw patrol games, new games paw patrol, pup fu games, paw patrol 2016 games, adventure paw patrol, skill games paw patrol , paw patrol connect games, pup fu paw patrol 2016m kung fu games, puppy games, paw patrol online games 2016, connect games, games 2016, kung fu games, new games, online games, paw patrol games, skill games, 2016 games, paw patrol connect, adventure, 2016 game, paw patrol online, skill game, online games 2016, fun game