It is always a pleasure for us to offer you some of the best online games, game sin whihc you can have alot of fun playing with your favourite characters. Now the administrative team of games-kids.com has decided to offer you a new and beautiful online game, a game in whichyou have by your side the characters from the serie, Paw Patrol. In this new game that we have to offer you are inivted to use your mind skils and solve a puzzle. The puzzle game contain an image with the characters from Paw Patrol, the team of puppies and their leader. As in any puzzle type of game you need ro use your imagination and try to solve it in th shortest time. In order to play this new game you have to take a close look at the image that is offered at the beginnig, the puzzle already solved and after you are done , click on it to shuffle the pieces and start solving it by finding the place of each piece. Play this new puzzle game with Paw Patrol and have fun, here on games-kids.com!
Use the mouse to play!
You can also read the instructions that Paw Patrol Jigsaw are given in the game and follow them carefully!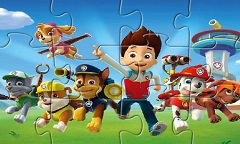 Paw Patrol Jigsaw
Find the Paw Patrol Jigsaw game by searching for this items:
paw patrol, new paw patrol games, paw patrol online games, free paw patrol games, kids paw patrol games, online paw patrol games, new games paw patrol, puzzle games paw patrol, puzzle with pae patrol, cute ppaw patrol games, new paw patrol jigsaw, online games, new games, new puzzle, paw patrol games, puzzle games, new puzzle game, puzzle game, paw patrol online, puzzle