You have been very good doctors over the time here on games-kids.com, and so we have brought for you today a new online game from the Frozen games category, in which you will have to be doctor again. In this game, Elsa has problems with her eyes, so she is coming to your eye clinic, where you will have to be sure that you can heal and treat all of her problems. Even though it's not going to be easy at all, we are sure that you will do a great job, and for that we have prepared for you a lot of special tools and equipment that you will be able to use in your office. You will have to act very fast and treat Elsa's eyes, because she is in a lot of pain, and she can't see very well, and we are sure that you will be able to help her feel much better by the end of this game, and so you will see that she will be very happy and will reward you with more interesting Frozen games that you can play with all your friends. Have fun!
Use the MOUSE to play.
You can also read the instructions that Elsa Eye Clinic are given in the game and follow them carefully!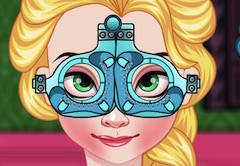 Elsa Eye Clinic
Find the Elsa Eye Clinic game by searching for this items:
frozen games, new frozen games, online frozen games, fun frozen games, doctor frozen games, interesting frozen games, girl frozen games, princess frozen games, elsa frozen games, elsa games, new elsa gams, 2017 elsa games, girl elsa games, fun elsa games, princess elsa games, princess games, fun princess games, 2017 princess games, disney princess games, disney games, doctor games, fun doctor games, 2017 doctor games, interesting doctor games, fun doctor games with elsa, eye clinic games, fun eye clinic games, 2017 eye clinic games, free eye clinic games, disney princess, doctor game, doctor games with elsa, elsa game, frozen game, fun doctor game, fun princess, games with elsa, new elsa, new frozen game, online frozen, princess elsa, princess elsa game, elsa gams, interesting frozen game