Join us on games-kids.com in order to offer you a new and amazing online game in which the main character is princess Elsa from the Frozen Disney movie. We are as always looking to offer you some of the newest and most amazing online games in which you will have a lot of fun with your friend. Here in this new and fun online game that we have for you, princess Elsa is getting ready for one of the most amazing days of her life, her wedding day. Here in this new and fun online game you are invited to join Elsa and help her get ready for this most awaited day. You will have to help her choose the wedding dress and also some accessories . You have a few dresses to choose from and she is sure that you will make the right decision . We are sure that you will have fun while helping your dear princess friend. Join Elsa in this new and fun dress up type of game and enjoy spending the time with her. Have fun!
Use the mouse to play!
You can also read the instructions that Elsa Wedding Day Prep are given in the game and follow them carefully!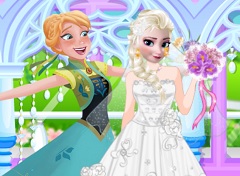 Elsa Wedding Day Prep
Find the Elsa Wedding Day Prep game by searching for this items:
frozen games, elsa games, new games, kids games, elsa fun games, elsa frozen games, elsa bride games, new elsa bride games, fun bride games, frozen dress up, dress up games, dress up online games, kids games dress up, princess games, new princess games, fun princess games, online princess games, free princess games, princess games for fun, free games with princesses, princess games 2017, princess 2017 games, dress up games, new dress up games, online dress up games, bride games, lesa bride online, fun elsa dress up, elsa and anna wedding, elsa wedding, elsa wedding day