Are you ready for the nex games for today? Well we have the honour to offer to you new and beautiful online games, new games in which we are sure that you will have alot of fun with us. This new game that we have for you is a very beautiful online game in which the main character is Rarity, one of the My Little Pony characters. Rarity has a terrible accident while she was trying to climb a hill and she fell and hit many rocks. While she remained uncouncious someone found her and took her to the closest hospital in order to get the needed medical care. Now she is at fynsy hospital where she is waiting for you to join her and play the role of her doctor. As it is a caring game, you will get all the needed instructions in order to clean Rarity and heal all of her wounds. Rarity is sure that you will do a great job by taking care of her wounds and she is happy to have you by her side everytime. As it is a caring game we are sure that you will have alot of fun and we invite you to join us and enjoy playing the games that we have at every hour of day and night. Have fun playing this new game that w ehave to offer especially for you, here on games-kids.com!
Use the mouse to play this game!
You can also read the instructions that Rarity Injured are given in the game and follow them carefully!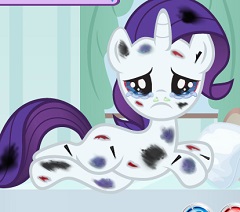 Rarity Injured
Find the Rarity Injured game by searching for this items:
my little pony, my little pony 2015 games, new my little pony games, online games with my little pony, free my little pony games,rarity games, new rarity games online, games with rairry 2015, rarity injured, rarity clinic, rarity caring games, rarity doctor games, injured rarity online, my little pony games, my little pony 2015, games with my little pony, new my little pony, online games, rarity game, caring games, pony games, 2015 games, games with rairry, doctor games, new games, new rarity games, caring game, doctor game, caring, games online, pony, hospital, doctor