This right here is a very cute game in which you are going to have a lot of fun, we are sure about that and that is why we are here, we the administrative team are here to notice which are the games you enjoy the most and bring them to you to make sure you have a nice time here on games-kids.com. We are sure you enjoy bejeweled games and that is why we are here with this brand new game right here on our site and we hope you are going to enjoy it, as you can see it is a very cute bejeweled game in which you get to play in a Christmas themed atmosphere and that makes the game even more special. We are pretty sure you know the rules, simply connect three or more of the same tiles to make them pop and this will give you points. Good luck!
Use the MOUSE to play.
You can also read the instructions that Happy X Mas are given in the game and follow them carefully!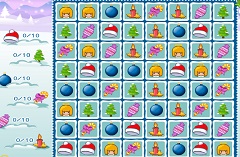 Happy X Mas
Find the Happy X Mas game by searching for this items:
bejeweled games, games with bejeweled, bejeweled, bejeweled nw games, fun games with bejeweled, bejeweled games for kids, cute bejeweled games, funny bejeweled games, bejeweled games online, interesting bejeweled games, bejeweled christmas games, christmas games, new christmas games, bejeweled happy xmas