This right here is a magical game and we are sure you are going to love it and that is very important for us because that is why we are here, to dot he best we can in order to make sure you have a nice time and we know you are going to have the nicest time ever in this game which is really cute and we are saying this because, as you can see you get to play with Roxy, a Winx girl who is super cute and friendly and of course a magical fairy and that makes the game even more interesting. Your mission in this very fun game is to dress her up and if you enter the game you will see that you really have a lot of options from which you can choose so be creative and of course use everything you know about fashion. Good luck!
Use the MOUSE to play.
You can also read the instructions that Roxy Mini Winx are given in the game and follow them carefully!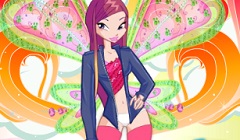 Roxy Mini Winx
Find the Roxy Mini Winx game by searching for this items:
winx games, winx, winx games online, games with winx, winx fairy games, fairy games, new fairy games, fun fairy games, winx games for kids, kids winx games, winx games 2017, magical winx games, beautiful winx games , winx games for fun, interesting winx games, winx games for kids online, roxy, winx roxy games, roxy winx games, fairy roxy, fairy roxy dress up , dress up games, new dress up games