Winnie and his friends are waiting for you all int his brand new puzzle game, it is a very nice and cute puzzle and that is especially because, as you can see,m you get to play not only with Winnie the Pooh, who is one of the most popular bears of all time when it comes to cartoons, but you can also play with a lot of his friends, Piglet, Tiger and so on they are all waiting for you. This is possible because this is a puzzle game and you will simple get a picture with all of them which you have to solve, it is great because the image is cute too, it is with all of them, in the winter, having a lot of fun and playing together. To start solving it, just select the number of puzzle pieces, so the level of difficulty of the game. Good luck!
Use the MOUSE to play.
You can also read the instructions that Winnie Winter are given in the game and follow them carefully!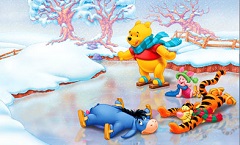 Winnie Winter
Find the Winnie Winter game by searching for this items:
winnie the pooh games, games with winnie the pooh, winnie the pooh, winnie the pooh new games, winnie the pooh animal games, animal games, winniw and friends, puzzle, puzzle games, winnie and friends puzzle