Well this game right here is not easy but if you are curious enough to try it out, we are sure you are going to love it, and as you can see it is a restaurant game which makes it difficult because in a restaurant game like this one you don't only have to cook, you also have to serve the food to the clients. Of course that the clients will come and each and everyone of them will place their orders and you kids have to be the chef and try your best to cook the meal they ordered, of course you are going to receive the recipe for all of thtem, but you have to try to memorize them so you would be able to move really quickly. Another difficult thing about a restaurant game like this one is the fact that you have to be quick, otherwise the customers will get angry and they will leave and you will lose points. good luck!
Use the MOUSE to play.
You can also read the instructions that Pastry Maker are given in the game and follow them carefully!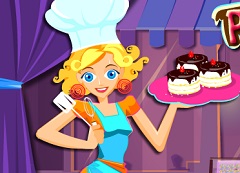 Pastry Maker
Find the Pastry Maker game by searching for this items:
cooking games, new cooking games, fun cooking games, 2017 cooking games, girl cooking games, girl games, new girl games, free girl games, fun girl games, girl cooking games, pastry maker, pastry maker games