Today dear friends, you have the chance to meet again with Jessie here on games-kids.com, where you can see that we have prepared for you a very interesting girl games category game. You dear friends will meet with Jessie, who wants today to decorate her entire room, and for that you will have to make sure that you can help her look like the famous Van Gogh. She wants to have special pictor or artist clothes that she can mess up with the paints that she is going to use while she is decorating her room. We are sure that you will be able to help Jessie dress as beautiful as she can, and so by the end of this game, you will be able to help Jessie look amazing which will make her return here on games-kids.com. Have fun!
Use the MOUSE to play.
You can also read the instructions that Jessie Van Gogh Couture are given in the game and follow them carefully!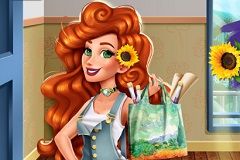 Jessie Van Gogh Couture
Find the Jessie Van Gogh Couture game by searching for this items:
jessie games, girl games, van gogh games, free jessie van gogh couture, couture games, girl games, 2017 dress up games, free dress up games, new fashion games, free girl games, girl dress up games