As you remember, we have here on our website the Cooking games category, in which you can meet with a Disney princess that needs your help in the kitchen. Today, we are bringing for you a new online game from the Ever After High games category, in which the beautiful Apple White wants to cook a birthday cake, and you are the only ones that know how to cook Birthday Cakes, and you have to make sure that you can help Apple White to have one of the most beautiful decorated birthday cakes from our website and most important delicious. You can see that we have prepared for you a special kitchen from the Ever After High, in which you and Apple White can have a lot of fun, and so you can see that all the fresh ingredients are prepared and you can use them all on your birthday cake, and so Apple White will be very happy and will bring you more girl games here on our website. Have fun!
Use the MOUSE to play.
You can also read the instructions that Apple White Birthday Cake are given in the game and follow them carefully!
Date: 11.10.2017 02:00
Category: Ever After High Games
Score: 5.00 stars.
Voted: 1 times
Played: 196 times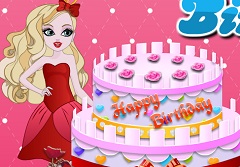 Apple White Birthday Cake
Find the Apple White Birthday Cake game by searching for this items:
ever after high games, girl ever after high games, 2017 ever after high games, cooking ever after high games, apple white birthday cake cooking games