This is the most awesome parking game and that is because you get to play with a police car, so in this boys game you don't have to worry about the police if you don't drive how you should or you make mistakes because in this game you kids are the police. You don't have a very awesome car in the beginning of this cars parking game but once you are better and you go forward in the game you can upgrade to a cooler car. So come and start this cars parking game in which your task is to follow the arrow and park the police car in the marked area quickly and you can also give tickets to the drivers who park where they shouldn't , after all you drive a police car, a supercar if you are good enough. Good luck!
Use the ARROW KEYS, SPACE for brake
You can also read the instructions that Supercar Police Parking 2 are given in the game and follow them carefully!
Date: 11.10.2017 14:00
Category: Cars Games
Score: 5.00 stars.
Voted: 1 times
Played: 147 times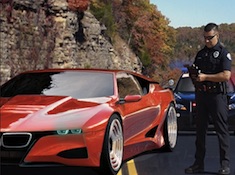 Supercar Police Parking 2
Find the Supercar Police Parking 2 game by searching for this items:
cars games, boys games, parking games, supercar police parking 2, police car games, car games for boys