You have already seen that the Lego figurines games are a great game to learn something new every day, but still have fun and enjoy a nice game evening with your friends maybe, because the Legos, beside cities and new worlds buildings, love to build new relationships. That's why you love playing games with them, because they are really fun and always surprise you with something new. This game requires a little more thinking, in comparison to the rest of them, you will have three columns of Lego bricks with different colors, and what you have to do is to switch the bricks in such way you make a one color column. But it's not that easy because you are on a platform that moves up and down, and you have an evil Lego coming after you, and if you touch him you lose and start over.
Use arrow keys to move and space to select.
You can also read the instructions that Lego Brick Builder are given in the game and follow them carefully!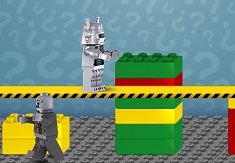 Lego Brick Builder
Find the Lego Brick Builder game by searching for this items:
lego, lego games, lego brick builder, new lego games, free lego games, online lego games, 2015 lego games, fun games with lego, kids games, online kids games, fun games, games with lego, lego figurines, kids game, fun game, games, bricks