Welcome back dear friends here on games-kids.com, where we are bringing for you the most interesting and the funniest games that you can play only here on our website. We are bringing the Batman vs Superman Puzzle game, in which you will have to be very careful and concentrated, because dear friends you will have to make sure that Batman and Superman will have all the puzzle pictures solved. It's not going to be easy at all, but you dear children will have to help both superheroes to gain points by having the puzzle picture completed. We know that you love to play boys games with Superman and Batman, so you have to make sure that you will be able to win this new puzzle games with the two superheroes so that they will return with new online games that you can find only here on our website. Have fun!
Use the MOUSE to play.
You can also read the instructions that Batman vs Superman Puzzle are given in the game and follow them carefully!
Name: Batman vs Superman Puzzle
Date: 13.03.2018 23:00
Category: Superheroes Games
Score: 5.00 stars.
Voted: 1 times
Played: 35 times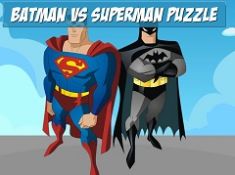 Batman vs Superman Puzzle
Find the Batman vs Superman Puzzlegame by searching for this items:
batman vs superman games, online batman games, 2018 batman games, new superman games, online superman games, superhero puzzle games