Dear talented players, we hope you are ready for our next adventure here on our website games-kids.com, because or matathon of fun games is not over yet and we have prepared for you a game that you really cannot dislike, especially because or hard working team is always very attentive si we bring to you only the games you really like and enjoy, like this next game which is names Kylie Jenner in new York, so you can already figure out a few things about this game, like the fact that the main character who will be in the center of atention today is betiful Kylie Jenner who is very happy to see you here again on our website. It seems like Kylie is in New York this summer and, even if it is very hot and it really makes you sweat, she really has to look good so this is about a dress up gkind of game and you'll have to demonstrate your imagination to make sure that Kylie is really fashionable when she visits new York, because it is really a very big city and you never know who you run into! Have fun.
Use your mouse to dress up Kylie.
You can also read the instructions that Kylie Jenner Summer in New York are given in the game and follow them carefully!
Date: 02.08.2016 22:00
Category: Dress Up Games
Score: 5.00 stars.
Voted: 2 times
Played: 983 times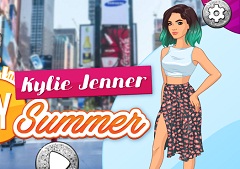 Kylie Jenner Summer in New York
Find the Kylie Jenner Summer in New York game by searching for this items:
kylie jenner games, kylie jenner online games, new kylie jenner games, kylie jenner dress up, dress up games, kylie jenner dress up games online, new kylie jenner games, kylie jenner in new york, kylie jenner summer outfit, summer games, summer dress up, summer dress up games, kylie jenner summer in new york, kylie jenner in new york dress up, kylie jenner summer outfit online, kylie jenner makeup, kylie jenner summer makeup, dress up games, girl games, fun games, games online, online games, dress up game, dress up games online, girl game, summer dress up game, dress up, fun game, makeup, adventure, up games, new york dress up, up games online