Welcome back dear friends here on games-kids.com, where we have prepared for you a lot of fun and very interesting games that you can find and play for free with all your favourite characters. Today, we have prepared for you a new interesting and very exciting game from the Big Hero 6 games category, in which you will have the chance to meet again with robot Baymax and his good friend Kiro. You dear friends will have to be very careful in this game, because Baymax has prepared for you a real mind adventure. This is a new memory game, in which dear friends you will have to make sure that you can find all the pictures with Baymax, Kiro and all the other characters from this games category, but for that you will have to be very careful and concentrated, because dear children there will be a lot of pictures and you will have a very small amount of time to flip all the memory cards and find the matching pictures. We are sure that you will do a great job, and so by the end of this new Big Hero 6 game, you will be awarded with a lot of points. Have fun!
Use the MOUSE to play.
You can also read the instructions that Big Hero 6 Delux Memory are given in the game and follow them carefully!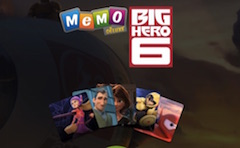 Big Hero 6 Delux Memory
Find the Big Hero 6 Delux Memory game by searching for this items:
big hero 6 games, new big hero 6 games, online big hero 6 games, fun big hero 6 games, 2017 big hero 6 games, free big hero 6 games, interesting big hero 6 games, memory big hero 6 games, baymax big hero 6 games, kiro big hero 6 games, kiro games, new kiro games, fun kiro games, memory games, 2017 memory games, fun memory games, robot games, new robot games, free robot games, interesting robot games, free robot games, free baymax games, fun baymax games, 2017 baymax games, interesting baymax games, baymax games, robot game, 2017 memory, big hero 6, free big hero 6, fun big hero 6 game, fun memory game, interesting games, memory card, memory cards, memory game, new memory, new memory game, hero 6, 2017 memory game