Are you in for some new and beautiful online games? Well we are very happy to have you by our side and we would like you to join us and enjoy spending each minute of your free time with us. Now we have for you a new creativity game in which the main character will be Baby Rosy, a cute little baby girl who wants to be your friend. We are trying to impress you and offer you some of the best online games in which you will have alot of fun playing with some of your favourite characters. In this new game baby Rosy wants you to give her a hand and help her clean the entire house. In the game you need to use your tastes in fashion and decorations and choose the right place for each furniture and decoration object in Baby Rosy's room. You can make different combinations, analyze them and after that choose the ones that you like the most. This is not the first decoration game that w ehave to offer to you, so we are sure that you will manage to play it without any problem. Enjoy playing this new decoration game with baby Rosy!
Use the mouse to play!
You can also read the instructions that Baby Rosy Room Decor are given in the game and follow them carefully!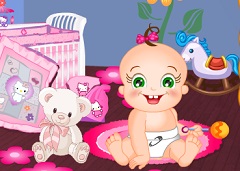 Baby Rosy Room Decor
Find the Baby Rosy Room Decor game by searching for this items:
baby games, new baby games, free baby games, new baby games, baby rosy games, new baby rosy games online, rosy care,room decor baby rosy, baby rosy room decor online, new room decor baby rosy, baby rosy room decor 2015, room decor with baby rosy online, baby game, online games, room decor 2015, decoration game, decoration, new baby game, games online, room decor, baby, new decoration game