You can see that here on games-kids.com we are bringing for you the newest, the most interesting and the funniest games that you can play with all your friends for free, and in which you can meet with all your favorite characters. Today, we have prepared for you a new online game from the Frozen games category, in which you have the chance to meet with both Elsa and Anna, the famous Disney sisters that today want to have a lot of fun with you. In this game, Anna and Elsa will really need your help, because dear friends you will have to make sure that by the end of this game, the two Disney princesses will have to look like real cheerleaders from high school, and you are the only ones that can help them. You will have to make sure that Anna and Elsa will have by the end of this game, clothes, accessories and hairstyles like the real cheerleaders from the professional contests, and that will make them really happy and you can see that they will return here on games-kids.com with more fun and more exciting new games in which they will want to try different other special costumes for special contests that they can win only with your help. Have fun!
Use the MOUSE to play.
You can also read the instructions that Princesses Cheerleader Style are given in the game and follow them carefully!
Date: 10.07.2017 09:30
Category: Frozen Games
Score: 4.25 stars.
Voted: 4 times
Played: 5571 times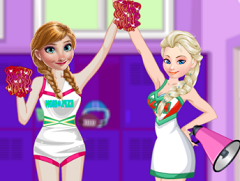 Princesses Cheerleader Style
Find the Princesses Cheerleader Style game by searching for this items:
frozen games, new frozen games, online frozen games, free frozen games, girl frozen games, interesting frozen games, dress up frozen games, girl frozen games, disney frozen games, elsa frozen games, anna frozen games, cheerleader frozen games, style frozen games, disney games, elsa games, new elsa games, online elsa games, fun elsa games, 2017 elsa games, interesting elsa games, girl elsa games, anna games, new anna games, online anna games, fun anna games, dress up games, new dress up games, online dress up games, interesting dress up games, 2017 girl games, new girly games, online girl games, 2017 girl games for kids