Come dear kids and check out this game which you can' t miss out and we are saying this because we are sre you are going to enjoy it and that is the most important thing for us, we the administrative team of the site want to make sure you always have a nice time here on games-kids.com and you will definitely have the best time ever if you just play with the right characters who are always waiting for you here on oue site. This time, as you can see, you are going to play with Sofia the First, a super cute Disney princess who is about your age and she loves games and playing all day long. So come and try out this game in which, as you can see, you get to do some coloring on beautiful Sofia pictures, just be creative and use the most beautiful colors. Good luck!
Use the MOUSE to play.
You can also read the instructions that Disney Princess Sofia Coloring are given in the game and follow them carefully!
Date: 15.07.2017 15:00
Category: Sofia the First Games
Score: 3.00 stars.
Voted: 2 times
Played: 532 times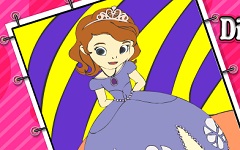 Disney Princess Sofia Coloring
Find the Disney Princess Sofia Coloring game by searching for this items:
sofia the first games, games with sofia the first, sofia the first, sofia the first new games, fun games with sofia the first, sofia the first princess games, princess games, sofia the first princess, princess games online, sofia the first coloring games, coloring, new coloring games, fun coloring games, sofia the first coloring online, sofia the first colring princess, princess games, disney princess games