We know very well that you love girl games dear kids and that is why we are here, because we are trying to give you the chance to play the most interesting games ever, like this one right here in which, as you can see, you get to play with Draculaura who is one of the Monster High characters and we are sure she doesn't need any introductions because she is super popular, she is cute and friendly and all she wants to do is make sure you have a nice time together. in this game your mission is to dress up Draculaura and don't forget the fact that she is a real fashionista and she loves dressing up in the newest trends so help her out with that and pick her the most beautiful outfit ever, just use your creativity and of course your fashion sense. Good luck!
Use the MOUSE to play.
You can also read the instructions that Draculaura Dress Up are given in the game and follow them carefully!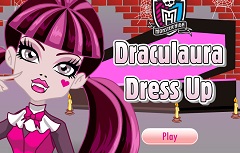 Draculaura Dress Up
Find the Draculaura Dress Up game by searching for this items:
monster high games , games with monster high, monster high, monster high new games, fun games with monster high, monster high funny games, online games with monster high, monster high games for kids, interesting games with monster high, monsters, girl games, new girl games, draculaura games, games with draculaura, monster high draculaura games, draculaura dress up, dress up draculaura