We have brought for you today dear friends a very interesting game from the Moana games category, in which you can see that the beautiful Disney princess has left her island. Moana is all grown up, and today she is about to leave for college, where dear friends she will live in a dorm with a cute little girl. We are not going to say who it is, so the mystery will make you more curious than ever. You dear friends have to make sure that you can help Moana and her new roommate have one of the most beautiful and girly college dorm. We are sure that you are going to be able to find modern and very beautiful decorations and furniture for the dorm, so that Moana will return here on games-kids.com with more fun and more exciting new games that you can play with all your friends for free. Have fun!
Use the MOUSE to play.
You can also read the instructions that BFF College Dorm are given in the game and follow them carefully!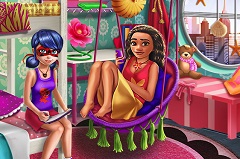 BFF College Dorm
Find the BFF College Dorm game by searching for this items:
moana games, new moana games, free moana games, girl moana games, bff games, new bff games, decoration moana games, 2017 princess games, princess moana games, fun moana princess games, princess decoration games, bff college dorm games, college games