Summer is here, and that means hot weather is here but also a lot of fun activities for everybody who loves an active life and the three girls in this game are up for a lot of adventures and they are lucky to have each other because they are very good friends and they go everywhere together. But in this one game, you will see that they have to clean the car which they use to travel to all the music festivals, to the beach and so on. But your job in this game is not to help them clean the car which they can do themselves, they need your help in fact to dress them up. That won't be very difficult too because the girls are real fashionistas and if you look through all the options for clothes and accessories you will see that you really have a lot of choices for them. Good luck!
Use the MOUSE to play.
You can also read the instructions that Summer Car Wash are given in the game and follow them carefully!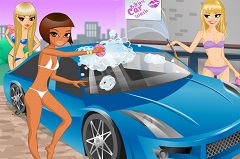 Summer Car Wash
Find the Summer Car Wash game by searching for this items:
girl games, new girl games, fun girl games, online girl games, funny girl games, dress up games, girl dress up games, summer car wash