Welcome back dear friends here on games-kids.com, where we are bringing for you the newest, the most interesting and the funniest games that you can play with all your friends from all your favorite games categories. Today, we are unlocking for you a new online Lego games category, in which you have to be very careful and concentrated, because this is the only way that you can help the Lego Batman movie to have new characters for the sequel. You dear friends have to make sure that you are able to create a lot of new Lego Batman characters. There has to be new villains and good characters in the next Lego Batman movie, so you have to make sure that you can create special and unique characters for the next Lego Batman movie, and we are sure that they will appear in the future games your characters will appear in the front rows. Have fun!
Use the MOUSE to play.
You can also read the instructions that Lego Batman Movie Super SigFig Creator are given in the game and follow them carefully!
Date: 11.09.2017 08:00
Category: Lego Games
Score: 5.00 stars.
Voted: 1 times
Played: 349 times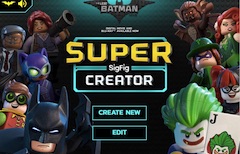 Lego Batman Movie Super SigFig Creator
Find the Lego Batman Movie Super SigFig Creator game by searching for this items:
lego batman movie games, new lego batman games, free lego games, 2017 lego movie games, interesting lego movie games, fun lego batman movie games, 2017 lego games, new lego games, online lego games