This is the perfect boys games but you have to know how to drive this cars in this racing game, because this boys game right here is all in one, a cars games in which you can play with all kind of cars and drive them and make them better with the coins you earn and so on and also a racing game in which you have to beat your opponents and this won't be very easy in this racing game and that is why you have to upgrade your car and do your best to drive well. So come and try out this uphill climb racing 2 game in which you will be given a car, you can upgrade it with the points and coins you earn in the level. You only go to the next level if you beat your opponents in the race. When you have enough coins you can even buy a new car. Good luck!
Use the ARROW KEYS to drive, SPACE for brake and SHIFT for nitro.
You can also read the instructions that Uphill Climb Racing 2 are given in the game and follow them carefully!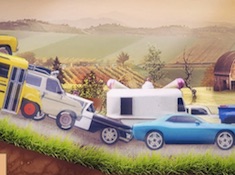 Uphill Climb Racing 2
Find the Uphill Climb Racing 2 game by searching for this items:
car games, boys games, racing games, uphill climb racing 2, car racing games, car games for boys