Here on games-kids.com, we are bringing for you dear friends the newest, the most interesting and the funniest games that you can play with all your friends for free. Today, we have brought a dress up game for girls, a game that comes from the Cinderella games category. In this game, the Disney princesses is living a love story with the cute prince, and you have to help them. Both Cinderella and the prince want to look beautiful when they are together, so you have to make sure that by the end of this game, Cinderella will have one of the most beautiful, modern and fashion gowns that she can wear, and the prince will be dressed in a costume, so that they will make one of the most elegant couples on our website. Have fun!
Use the MOUSE to play.
You can also read the instructions that Cinderella Love Story are given in the game and follow them carefully!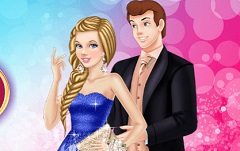 Cinderella Love Story
Find the Cinderella Love Story game by searching for this items:
cinderella games, girly cinderella games, dress up cinderella games, 2017 cinderella games, cinderella love story games