Today only here on games-kids.com, you can find the Rapunzel Wedding Dress Designer game in which we are sure that you can have a great time. This game is for girls and you can see that Rapunzel wants to become the best and the most famous wedding dress designer, so you have to help her achieve her dream. It's not going to be easy at all, but we are sure that you will manage to help the beautiful Disney princess create the most beautiful, modern, fashion and excentric Disney wedding dresses that all the princesses and girls from our website can wear at their wedding day. Even though it's not going to be easy to create all these dresses, you and Rapunzel will have a great time, but you have to stay focused to be sure that your dresses will be the best, and you can see that in this new online dress up game, Rapunzel has to design her first wedding dress for beautiful Disney princess Elsa from the Frozen story. Have fun!
Use the MOUSE to play.
You can also read the instructions that Rapunzel Wedding Dress Designer are given in the game and follow them carefully!
Name: Rapunzel Wedding Dress Designer
Date: 13.11.2017 10:00
Category: Princess Games
Score: 5.00 stars.
Voted: 1 times
Played: 174 times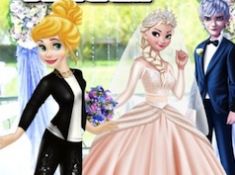 Rapunzel Wedding Dress Designer
Find the Rapunzel Wedding Dress Designergame by searching for this items:
rapunzel dress up games, 2017 rapunzel designer games, girl rapunzel wedding dress designer, frozen girl games, 2017 rapunzel and elsa games